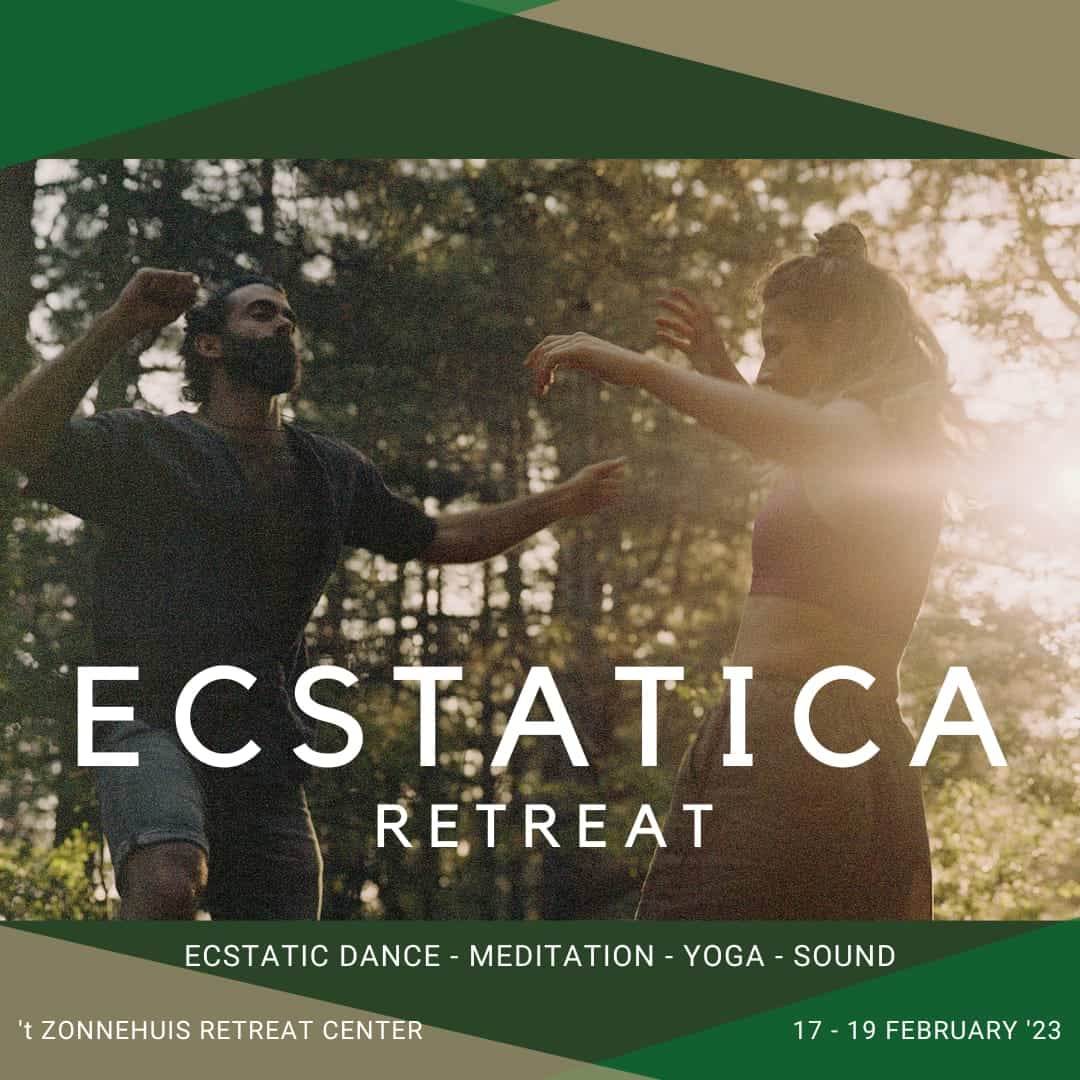 ECSTATICA is a weekend retreat designed for you to connect with yourself through dancing, moving, community vibes, singing, exploring the forest and sharing good food. 
All of it hosted in the gorgeous Zonnehuis retraitecentrum.
This weekend represents celebrating life!

We celebrate life in a conscious way. We are awake, seeing everything happening and putting it into motion. How beautiful is it then to wake up the next day and feel that you have experienced and been able to embody so much?
This weekend is all about ecstatic dance paired with workshops that will bring you a little more inward. Through these workshops you will find that the ecstatic sessions will bring a deeper experience. We will move, take our time, eat, connect with ourselves and each other and go wild!
The common thread during this weekend will be the opposite energies called Ying&Yang. We respect these energies and understand that after each Yang, energetic expressive movement, we must seek the Ying , inner gentle movement. This creates a self-nurturing state where you are able to take all the experiences. In this way we sink deeper and deeper into that state where we can learn beautiful lessons from ourselves and each other. All while celebrating life!
ECSTATICA time table
Friday 17 February

15:00 Arriving & welcome snacks
17:00 Opening ceremony
18:00 Workshop 1
19:00 DINNER
-Campfire-
Saturday 18 February
8:00-9:00 BREAKFAST
9:30-10:00 Yin yoga & Live music
10:30-12:30 1st Ecstatic Dance session with DJ Venus
13:00-14:00 LUNCH
14:00-16:00 Break time to explore nature or relax
16:00-17:30 Workshop 2
18:00-19:00 DINNER
20:00-22:00 2nd Ecstatic session with DJ Sefrijn
-Campfire-
Sunday 19 February
8:30-9:30 BREAKFAST
10:30-11:30 Breath work & Live music
12:30-13:30 Closing circle
14:00 Time to say goodbye